What can you do in winter with a toddler or a young child? Days are getting shorter and when it's cold outside, it can be very tempting sometimes to stay in all day. But you can certainly have lots of fun together, even in winter months. Get ready for some winter fun with kids; toddlers or older.
Here are just a few ideas for some winter activities that are great to keep the little ones busy and active. Some of them are great to do in the run up to Christmas to get you into the festive spirit. Others are for wintertime in general.
Go and see Christmas lights
Or even better go and see the Christmas light switch on event in your town or city. If your child is too young to stay out until late or you've already missed the big event in your city, don't worry. There will be plenty opportunities to see Christmas lights and decorated Christmas trees in city centres, shopping centres and other outdoor places throughout December and January. Kids love Christmas lights, so go out and have some fun getting into the Christmas spirit.
Visit Santa's grotto and take a picture with the big guy in red
There are many opportunities to visit Santa's grotto throughout December. This is a nice tradition that you can easily follow every year with your kids. It's a perfect Christmas event for the whole family, especially for the little ones. Kids will enjoy this magical experience and they will definitely love a festive gift from Father Christmas himself. We had lots of fun last year with our six months old during a photo shoot with Santa. Hopefully, she'll be as cool as the last year when we visit Santa's grotto this Christmas.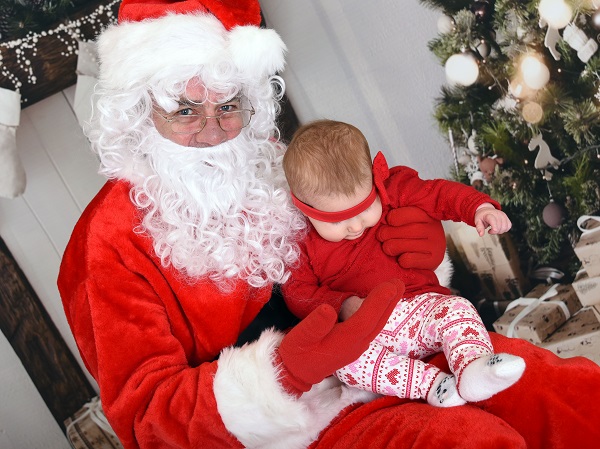 Visit Christmas market
I love Christmas markets. We usually visit them at least a couple of times each year. A great place for adults as well as kids.  Adults can enjoy a nice glass of mulled wine, while kids can have some fun doing children's activities and games. There will be something to do for every member of the family. German Christmas markets are rather popular in the UK. You can taste some real German sausages or schnitzels or just have a look at the stalls selling some unique gifts, special delicacies or craft items.
Go and see the reindeer
When you think of reindeer you instantly think about Christmas. Yes, Santa's little helpers, so magically pull Santa's sleigh and help him deliver the presents on Christmas Eve. Why not take your kids to see them in real life during the festive season? There are few places in the UK where you can see them in the wild; the Cairngorm Mountains in Scotland, Blithbury Reindeer Lodge in Rugeley, Staffordshire or the Reindeer Centre at Capralama Farm near Ashford, Kent. If you live near these places or visiting the areas, make sure you include this trip on your winter bucket list.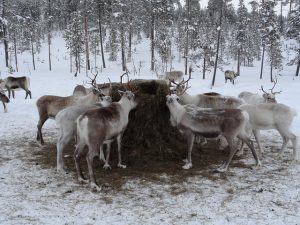 Build a snowman
Ok, I know we live in the UK where snow is very limited but if we are lucky enough to get some white coverage, you have to make the most of it. Take your kids out and build a snowman, or even have a snowball fight. Just make sure to wrap up warm and have some winter fun outdoors. Remember, 'there is no such thing as bad weather, only bad clothes'. I love this Scandinavian saying.
Go ice skating
In my country, ice skating is very popular in winter, together with skiing and sledging. Winter sports can be great fun, so why not introduce them to your kids at an early age? Since you can't rely on snow in the UK, ice skating seems to be the best option for keeping your kids active in winter months and avoid too much screen time. There are indoor skating rinks throughout the UK, as well as some temporary outdoor rinks in colder months. My 18 month old might be still too young for this but as soon as she is a bit older, I want her to put the skates on and learn ice skating. I used to love ice skating when I was growing up, so I can't wait to experience the fun all over again with my little one.
Take a walk in nature
Don't feel like taking a walk in chilly temperatures? Here's why you should reconsider. Even a simple activity like walking can be refreshing and a great mood lifter during those dark and gloomy winter days. Take your kids for a walk in the park, in the woods or head to the countryside. I know we are all guilty, but cold weather shouldn't be an excuse to stay indoors. Think about all the food and drink and cakes you are likely going to consume over the festive period. Walking is such an easy way to stay active and burn some of that excess calories.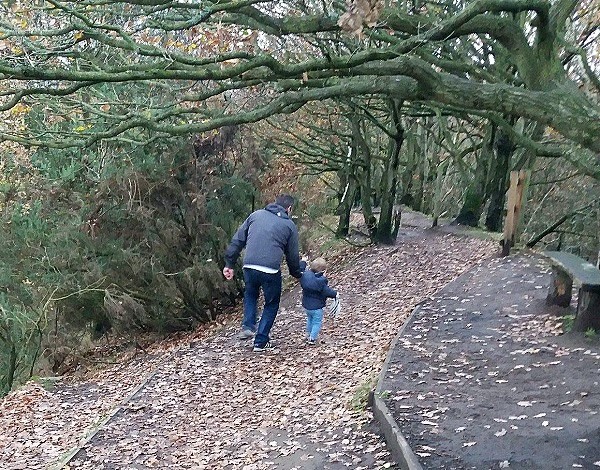 Visit Christmas and winter events or festivals
There will be many festive events, all you need to do is find them. The best way is to check out the holiday or winter events for families. Look at your local attractions you are already familiar with and check out their website to learn more about any special occasions and kids' activities taking place.
Take some winter pictures
Take some beautiful snowy pictures. Frost and snow-covered landscapes offer a totally different view and perspective of otherwise familiar surroundings. Take a seasonal outdoor photo of your family. If you are fast enough to do it in the run up to Christmas, you can even create beautiful personalised Christmas cards for your friends and family.
Visit a new place, ideally a proper winter destination
You can do something totally different such as visiting a new place; at home or abroad. If you have at least a couple of days off and a small budget to spare, taking a mini-break in winter could be a wonderful experience. Why not plan a weekend getaway and see some wonderful winter landscapes? There are some great places to visit in the UK during winter. Or if you have the means for a trip abroad, your family can enjoy the perfect snow holidays.
Okay, so I hope you get some inspiration for your perfect winter fun with kids. We'll be definitely doing most of these activities. Don't think we'll manage an international trip this winter, but there are still so many opportunities and things to do around. Embrace the cold weather and enjoy the festivities.
What's your perfect winter activity or tradition? Let's chat.
Zuzana