Reaching yet another milestone in baby's busy life. It's been a good few months since she started crawling and standing and cruising around furniture, but finally, she took her first few steps on her own, at just over a year old. I think it's time for the first baby shoes.
Since she took the first steps, she's been getting more adventurous and brave. Too adventurous for my liking. At first, it was only a few wobbly steps from one side of a coffee table to the other while holding firmly onto it. Ok, the 'holding onto it' part only came after a long time trying to convince her that it's less painful this way. But she learned at last.
These days it's more like a monkey that jumps from one tree to another. She learned to climb. At first, it was a TV stand, then a sofa, and now she discovered that the best view is from a kitchen worktop. Yes, she can climb on top of that too, from a sofa in our open plan apartment. Chasing after her and keeping her safe in her new adventures, yeah, that's how my days look like at the moment.
As her feet started to get more active, I thought it was a great time to get the first pair of baby shoes. Up until now, she's had a couple of pram shoes and some cosy booties during winter months.
We visited Clarks shoe store and got her a pair of pre-walking shoes. What the heck are they? And do you really need them? Here are some tips from our Clarks visit as well as some other advice about shoe shopping for babies and toddlers.
Barefoot is best
It's widely recommended now that babies should avoid wearing shoes until they can walk properly on their own. Before then, you can use socks, some warm booties or soft pram shoes if it's a bit cold. I started using anything other than socks in winter months when my baby was about 4-5 months old. Snowsuit that covers baby's feet and hands is great, so I only needed one pair of booties when it was too hot for a snowsuit but still a bit chilly to leave her feet just in socks.
Then as she started to pull herself up and stand up, I got a couple of pram shoes for the occasional outside use to protect her feet from any injuries. Indoors she loves to stay barefoot. She pulls her socks off the minute I put them on most of the time. I like to keep her feet unrestricted by shoes as much as possible.
You can read more about the benefits of keeping those tiny feet without shoes on this leaflet from American Podiatric Medical Association. There is also a handy shoe shopping guide for children that you can cut out and keep as a reference.
Don't buy first shoes in advance
You just can't predict what the size of your baby's feet will be when they start walking. Buy their first shoes when you need them. I bought some kids' shoes in advance from sales but they are all in a bigger size, so she can use them in the future. I also bought few booties which were never used. I thought I'd use them in winter but they weren't a good fit for my baby's feet at that time. They weren't expensive, so it wasn't really a big deal.
I avoided buying her first shoes in advance thanks to my friend and her much-appreciated advice. She's made a mistake of buying them too early and ended up never using them, as they were too small for her boy when the time came.
Measure the feet
Your baby's growing and developing feet should get measured every 6-8 weeks. Clarks offers a shoe fitting service in their stores, so just pop in and get your child's feet measured. They measure length as well as the width of the foot. Alternatively, you can also buy their measuring and fitting kit and measure your child's feet at home.
Don't spend a fortune
Seriously. Kids shoes can be so expensive. I just don't get it. Why should I spend £20 – £30 on a pair of baby shoes, my little one will probably wear for a couple of months before they are too small? Yes, you want something that's good quality and definitely comfortable for your baby's developing feet but that doesn't mean you have to splash out ridiculous amounts of money. Clarks, for example, have a high-quality footwear and they also have at least a few sales a year. Otherwise, they can be quite pricey. You can get a pair of baby shoes for around £10 when you get them in sales. That's not too bad. You should definitely head in Clarks when the sale is on.
Understand what type of shoes your baby needs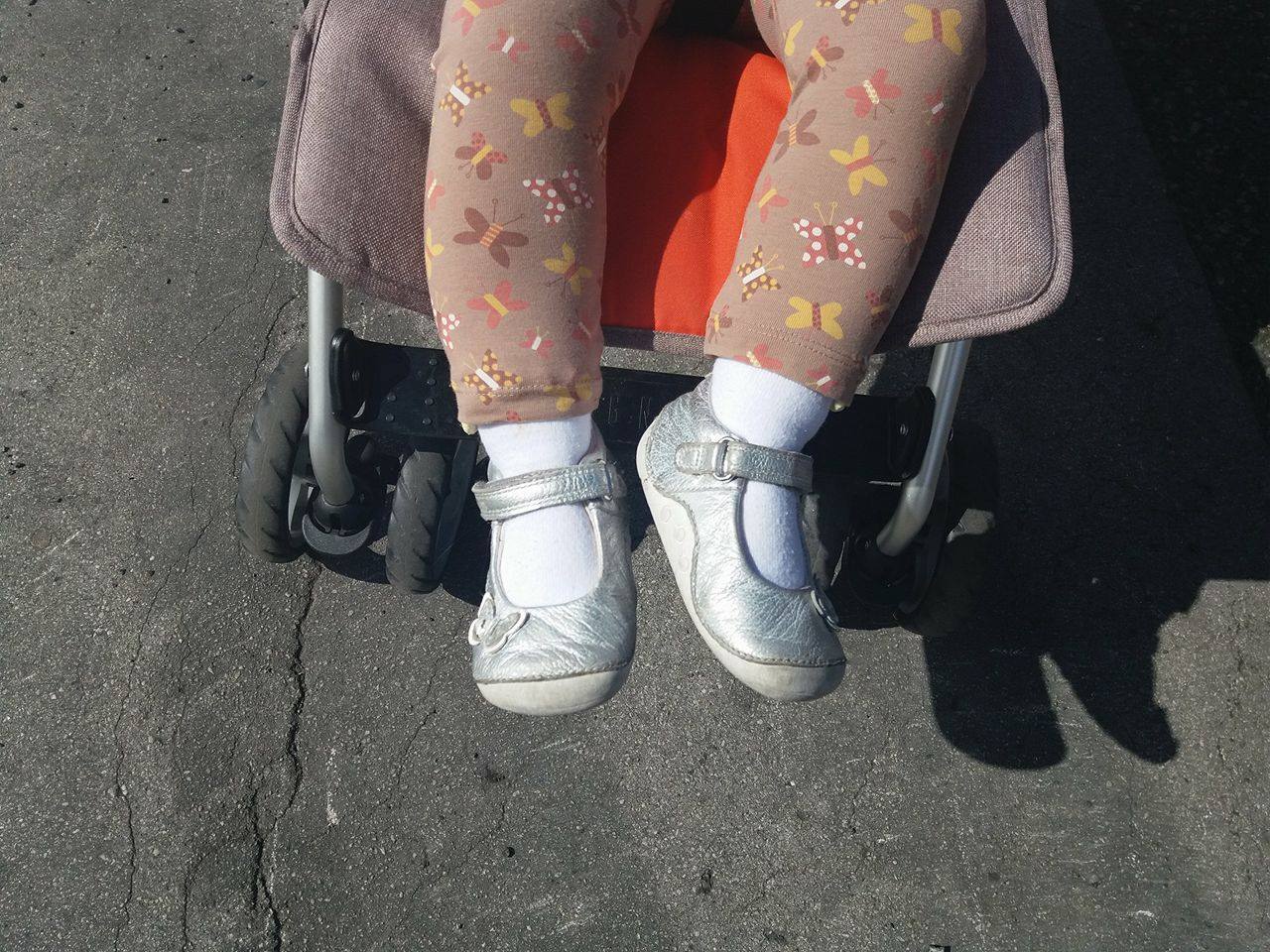 I thought that once baby's feet are measured, I will head over to the sale corner and just pick any pair of shoes in her size. Wrong. The shop assistant asked me whether my baby can make 10-20 steps on her own, to which I answered no. She then explained that I will need pre-walking shoes until she learns to walk more independently. Pre-walking shoes provide more flexibility and have a soft sole with rounded edges for better support and added protection.
Some people think that pre-walking shoes aren't that necessary and therefore it's just a waste of money. In our situation, they proved to be a good buy. Not that expensive from Clarks' sale, they were £13. My little one is quite active when outside, she just wants to walk now, while still holding my hand. She used to love swings but now, anytime I try to put her in the swing at the playground, she is quick to let me know that she isn't happy. And off she goes on the floor to explore every single detail of the playground. A quality pair of pre-walking shoes for this stage was a good investment.
Comfort and practicality first, style comes second
When we measured the little one's feet, I was a bit disappointed when the shop assistant told me they only have one pair of pre-walking shoes in her size. I have already chosen a  cute pair while we waited for shoe fitting, but they were proper shoes, not the pre-walking ones. They had some more in the shop but they weren't on sale and there was no way I would pay £26 for them. Even the shop assistant recommended buying the cheaper shoes as they won't be used for very long.
We tried shoes the shop assistant showed us and they were a perfect fit. I know my daughter can't tell me whether she likes them or not but I can tell by her reaction that they are comfortable. She even carries them around the house when we come from outside and take them off. They are not the most stylish shoes out there, and definitely not something I had in mind when I came to Clarks, but comfort comes first, right? Plus, I like the fact they have Velcro fastening, which makes putting them on on an active and wriggly baby super easy.
Have you got some more tips about buying first baby shoes? Where did you get yours? If you have any comments or questions about buying your baby's first shoes, please leave a comment.
Zuzana