Finally, we've had our first swim session. It took me ten months to get around to do it, but hey, better late than never, right? I planned on taking her swimming earlier but as many new mums know, life happens, and before I knew it the winter came, so I thought we'll wait a bit longer until it's warmer outside. I finally took her while on my recent visit to Slovakia, accompanied by my sister with her five-month-old son at first, then by my sister-in-law. We've been few times since then, and I'm pleased to say that my little one seems to enjoy it so far.
We didn't have any swimming lessons just yet, maybe in the future. I wanted to introduce my baby to water myself before I consider any lessons.
How did it go? What worked and what didn't?
To start, I have to say that a little bit of planning and preparation goes a long way to ensuring a pleasant experience for both mum and a baby.
The venue matters
The first thing I considered before taking my baby for her first swim is the venue. It needs to be somewhere baby friendly. What do I mean by that? Does the venue have space where you can keep your pram? What about baby changing facilities and the water temperature?
It's a good idea to check the facilities before you go. My sister-in-law recommended the venue we went to, as her friend used to take her little daughter there. So, I knew it's suitable for babies.
During the first visit, we changed our babies on a table that was in changing rooms. We just put some towels underneath, to make the surface softer. Not ideal, but we managed. It wasn't until our second visit that I noticed a changing table fixed to one wall. We must have been very tired mamas the first time round, as it was right behind us.
The temperature of the water was 33 degrees Celsius, which was very comfortable for myself and my baby. This is something that needs to be considered. You don't want your baby to start shivering or getting blue lips from cold, don't forget they are more sensitive to cold than we adults are. I hate entering cold water, never mind a baby.
An extra set of hands is helpful
As I said, for our first swim I went with my sister and nephew. We both got our swimsuits on at home, so we don't have to waste time in the changing rooms. Instead, we could just quickly undress and give the attention to our babies. Although we helped each other to watch the babies while the other one got undressed and then dressed back after the swim, we still agreed that it's a good idea to have two adults for each child when going for a swim with a baby. At least at the beginning, before you get more used to the routine and the whole process.
Try to simplify things by leaving the shower for later when you get home. If I wanted to get a shower there, it would take forever to get dry with my long thick hair. You can give your baby a quick wash to rinse the chlorine off, but our changing rooms were a bit cold when we came from the pool, so we just quickly dried them and got them dressed. The less hassle, the better. That's really the only thing I didn't like about our venue; cooler changing rooms. Something else to think about when picking the site.
Morning is usually better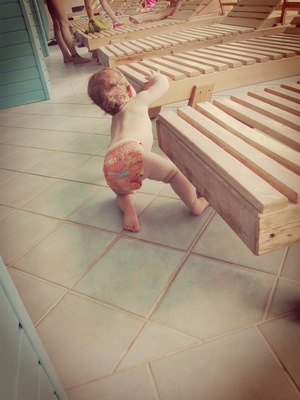 We went for a swim before lunch time, after our babies had their morning naps. I found this time to be ideal.
Firstly, it's more likely that the pool won't be too full in the morning or during lunch hours. In fact, during our first session, we were the only visitors there. I went in beforehand to check their usual pattern. I asked when the pool is usually busy and it gave me an idea of their peak times so we can avoid them.
Bare in mind, that swimming pools have their unique noise ambience, which can already be stressful for baby when visiting for the first time. Add to it the noise of other people around and how everything echoes, it's wise to plan your visit during off-peak times. During our second visit, there were few other people around. My baby liked to watch them with excitement at first, but after a while, it got probably too noisy for her as she was covering her ears quite a lot.
Secondly, babies seem to be more content in the morning. In the late afternoon, my baby is usually more tired, more cranky and more tearful. That's why we went in the morning, and it worked. At least for my baby, my sister wasn't as lucky. More on that in the following section.
Baby may not like it at first, even if he enjoys bath time
Don't have too high expectations when you take your baby swimming for the first time. Even if your baby loves bath times, he can still find the swimming pool environment a bit upsetting.
That was the case of my nephew. He was alright in the water for like three minutes, but after that, he started crying, so my sister took him out. When he calmed down, she tried to bring him back to water few more times, but each time he got upset. So that was it for them. Even though he absolutely loves his bath times at home (his parents like to create mini wellness sessions for him), it was the right opposite while in the pool. You just can't completely predict how your baby will react to the new environment.
Your baby knows when it's time to go
I found 20-30 minutes in water just the right length of time for my baby. While she enjoyed the first few swimming sessions (and it went better than I expected), after a certain time, I could tell that she's had enough. I thought that maybe she just needs a little break. After few minutes on a sunbed, we tried to enter the water again, but she wouldn't have any of that. So, we packed and left.
Your baby will definitely let you know when it's time to go and it probably won't be a very long session at first. Again, don't have unrealistic expectations of your baby. The water will make your baby tired, so follow her cues, and when she shows any signs of agitation, she is giving you a signal that she's had enough. My baby fell asleep after each swimming session almost immediately, even though it wasn't her usual nap time.
So, my baby's first swimming sessions have been a success, much to mama's delight. What's your experience?
Zuzana