Christmas preparations are in full swing. People start to decorate their homes, buy gifts for loved ones, organise Christmas parties. Everyone is getting into the festive spirit in one way or another. But this time of the year can be bittersweet when you live abroad and you are spending Christmas away from family.
This festive season is all about quality time with your loved ones, so homesickness strikes even more than usual during Christmas period. You watch everyone around you enjoying that precious time with their families and you can't help it but feel a bit envious at times.
During twelve years of living in the UK, I spent Christmas away from home quite a few times. Some of them with friends, some with my boyfriend, while others I just worked all the way through. Now, that we have a daughter, I think it's safe to say that she is our main focus on Christmas and there is no doubt in my mind that Christmas will be full of joy, laughter and happiness.
However, I have to admit that there were times when I wasn't looking forward to all the festivities. It was such a strange feeling when I thought about the (should be) happy incoming season and I was feeling a bit down.
But it doesn't have to be that way. One thing that I learned over the years, after all these Christmasses away from home is that it is what you make of it. It's all about your attitude and how you choose to stand up to the situation.
There are ways to make your Christmas abroad not only manageable but enjoyable too. So if you struggle with homesickness and you wonder how to get through Christmas period without your family around, here are some tips from the many Christmases that I spent away from home.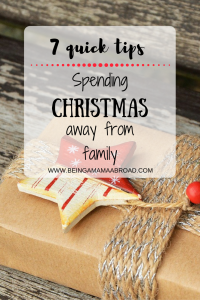 Don't dwell on the past too much…
This one is hard. Especially if it's your first Christmas away from home. It's hard not to think about the lovely memories you have of Christmas back home and feel a bit sentimental and nostalgic.
But here's the thing. Despite all these wonderful memories, now it's the ideal time to start creating new ones. One thing you realise when you spend your first Christmas abroad is that you are no longer a child. Yep, you are an adult now, and you have the opportunity to create and follow your very own, new, unique traditions. Traditions that you can hopefully one day pass on to your kids so that they too can have the same amazing memories of Christmas as you have.
There is really no point in thinking about the past and feeling miserable and sad because you can't be with your family. At the end of the day, you moved abroad for a reason, so it's always a good idea to remind yourself why you moved away in the first place.
…And don't try to recreate the 'perfect' Christmas…
Christmas away from home will always be different in so many ways. First thing, your family isn't there. Then there is Christmas dinner to prepare. If you are lucky enough to find all the ingredients you need to cook the perfect Christmas meal, no matter how much you try, nothing will compare to your mum's cooking.
But don't get me wrong. I'm not saying don't cook your Christmas dinner at all. Instead, lower your expectations. You don't need all the courses you normally have back home. Just cook what you are most comfortable with to avoid the disappointment.
…Still, follow some of your traditions…
Despite the fact, that you are far away from your family, following some of your family traditions will help you feel a bit closer to home. I like to have Christmas dinner on Christmas Eve. That's what we do back in Slovakia, and after that, it's time to open our presents. Christmas Eve will always be a hugely important day for me and I definitely want to carry on with this tradition and pass it onto our daughter as well. She will get her presents ahead of most kids around her. How cool is that?
…But embrace new culture too…
As I said, it's time for new customs and habits. What a better way to start than embracing the culture of your adopted country. Learn how the locals celebrate Christmas and see which traditions you can follow yourself. You will be able the appreciate the moment a bit more and feel like a part of a community. It might also help you to feel less homesick and lonely.
Here is an example. At first, I found it ridiculous to decorate my home and Christmas tree weeks before Christmas like British people do. In Slovakia, we don't do it until few days before Christmas. I know some people even decorate their Christmas tree on Christmas Eve. Not for me anymore. I prefer to follow the British culture in this instance. Which reminds me of only one thing; time to put that Christmas tree up.
Make yourself cosy and get into the festive spirit early. Even if you are the only member of your family who has the Christmas tree decorated at the beginning of December.
Embrace your new place, watch the Christmas lights being switched on, visit Christmas markets, have a glass (or two) of mulled wine, buy some of those silly Christmas crackers. All of this will enhance your Christmas experience.
…Don't forget to keep in touch…
I usually call my family after our dinner on Christmas Eve to talk about the food and gifts we all received. Nothing can replace the real face to face contact with loved ones, but we need to be grateful for all the technology that's available to us these days. Make the most of it and connect with your family during this time.
I love to know what everyone's been up to and how is their Christmas but at the same time, I try not to overdo it. GIve them a call, or have a nice video chat but then it's back to your own reality. Spend the holidays present in your own world and make the most of it.
…And surprise your family with gifts…
I love sending gifts to family back home. Christmas is not about the presents, but I always feel better when my family opens my special delivery on Christmas Eve. I don't send parcels every year for Christmas, but I always make sure I bring something with me whenever I visit home.
…Oh, and don't forget about yourself too
Last but not least. What makes you happy? Why not treat yourself to little something? Whether that's something material or spiritual and intangible, we all have something special we enjoy doing, but don't always have the time or maybe even finances during the year.
If you enjoy reading, get yourself some nice book and read it over Christmas period. Keep yourself busy doing things you enjoy. Even if that's just sitting all day in front of the television and watching your favourite festive movies.
Christmas away from everyone closest to your heart will no doubt be different. But that doesn't mean it has to be different in a bad way. These strategies work for me brilliantly. And also the fact that I am a mum now, and our daughter is the main focus of Christmas for us.
How do you cope with homesickness during the holiday season? Any other special tips? Feel free to share them with us.
Zuzana