I remember my mum always making some homemade bottled food, which would last for months, even a few years to come. Ever since I remember, she would do it year after year. It was just so much cheaper than buying things from supermarkets. Plus, it does taste better, and you know what's in it. It wasn't until I left Slovakia that I really appreciated her efforts and how lovely it is to have homemade instead of supermarket bought fruit purees, jams, fruit compotes or pickled gherkins. She would spend her summer days in the kitchen making all these.
During our last visit to Slovakia, I have finally decided to start making some homemade preserved food myself. I chose to make applesauce with carrot because I saw how much my little one enjoyed my mum's puree in Slovakia. Since my baby started eating solid food, we've been making an effort to cook homemade food for her. The only store-bought foods are the little fruit puree pots. I was really excited to make some homemade purees for my baby instead.
You can just do the simple homemade applesauce on its own (same cooking method), or you can add other ingredients, such as carrot, which I used this time. Great way to add some veggies to your baby's diet if they aren't veg lovers. I'm planning to mix the applesauce with other fruits such as apricots or pears in my future attempts.
So finally, I made some of that yummy homemade apple puree with a little bit of carrot. I followed my mum's detailed instructions to get the best results. She is an expert in preserving homemade food, so I trust her completely. She knows what she's doing. Let's find out how did it all go.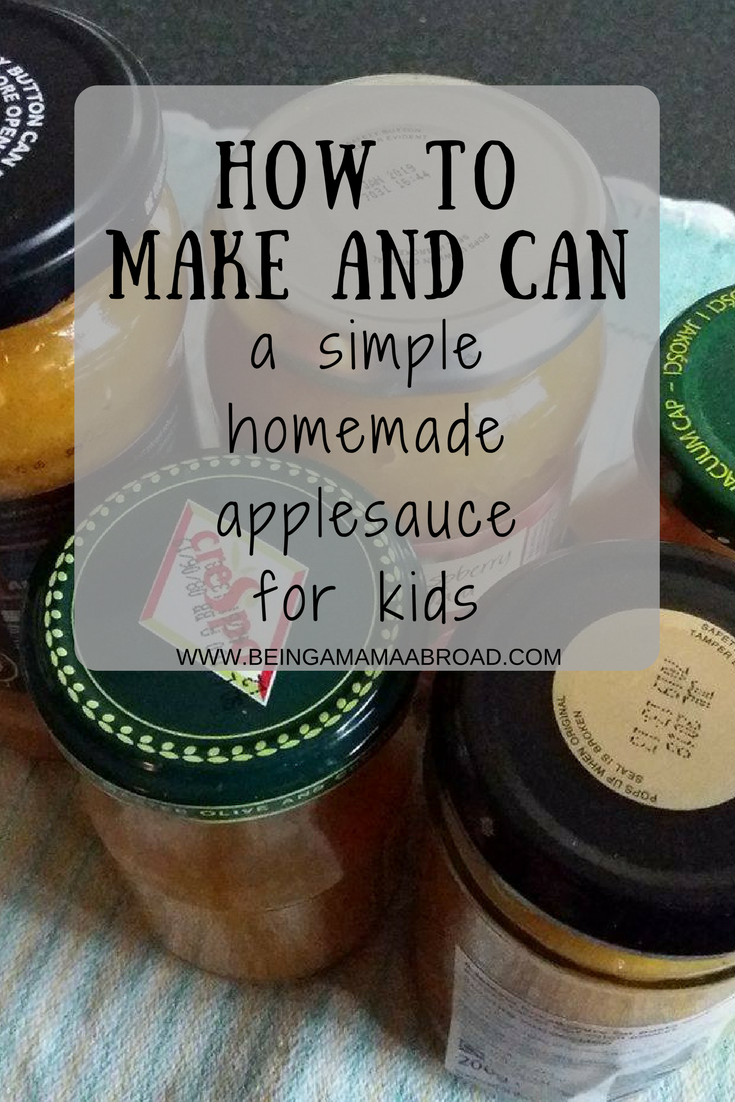 You will need
2 kg apples (sweet such as Gala apples- Granny Smith's apples are probably not the best idea for this recipe if you want to avoid adding lots of sugar)
2-3 carrots (you can add more if you wish)
Cinnamon, vanilla sugar, vanilla pod, sugar, if needed
Water
Method
Prepare your jars beforehand. You can buy preserving jars, but I've just collected mine over time from bottled food purchased in stores. Wash then together with lids thoroughly and let them dry naturally placing them upside down. Don't dry them with a tea towel to make sure it doesn't leave any residue behind.
Prepare your apples and carrots. Peel them and wash them. Cut the apples in quarters and get rid of the core. Instead of cutting the carrot, it's easier to grate it, so it cooks faster with apples. Something I only remembered after I cut the carrots. I got there in the end.
Place quartered apples and grated carrot in a large saucepan and add some water. I added water in smaller quantities, as I didn't want the puree to be too runny. You want to have the right consistency. You can always add more water if the sauce is too thick.
Once the apples are soft, after about 15 – 20 minutes of cooking over medium heat, you can use a hand blender to make a puree. I like the fine pureed consistency, but you can leave it a bit chunky too. It's all about personal preference.
Taste the sauce to see whether you need to add any sugar. Mine wasn't as sweet as I had hoped for, so I added about three tea spoons of sugar and some cinnamon for a bit of unique taste and aroma. My mum sometimes uses vanilla sugar too. If you are making the sauce for a child who is under one, you can replace sugar with just cinnamon and a vanilla pod, which you remove before blending or ladling into jars.
Once you are happy with the taste of your sauce, bring it to a boil again. When the sauce is hot, ladle it into your jars. Wipe off the jars from any spilt sauce and close them with lids.
Place the jars into a large saucepan, fill with water up to about two-thirds of the jars' height, and bring to a boil. Reduce the heat and leave it to cook for about 20 minutes.
Remove jars from water, tighten the lids properly and let them cool down. Don't place jars on a cold surface, otherwise, they may break. Spread a tea towel on your kitchen worktop; this will do the trick. You can check that the lids are sealed properly by turning the jars upside down. It's also a good idea to label the jars, with a name of the product and year they've been made, especially if you plan to do a lot of homemade food this way.
Making your own homemade applesauce is really a simple process. There are just so many ways you can use the applesauce. Back home in Slovakia, we use it mainly as a healthy snack for kids. You can make it on its own with just apples or combine it with other ingredients as I did in this recipe, to add some variety to it. It doesn't take too much of your time. I've made it in about an hour and a half. With the amount of ingredients I used, I made six bottles. I know, there are five on my photos, but I kept one in a fridge without boiling it in water, for immediate consumption. You can double, or triple, or even quadruple the amount to make enough applesauce for the whole year.
Enjoy and let me know how you get on.
Zuzana