Visiting our families abroad and hence flying is a regular part of our lives. We've had two abroad trips with our ten-month-old so far and are about to visit Slovakia again, so I think it's a good idea to share some tips about organising and planning for the journey. If you want some hints about the actual flight and how to survive it without too much stress, then read this.
Now then, do you want to know how to pack when traveling with a baby? What do you need for the duration of the flight? Read this checklist for flying with a baby, plus I offer some of my tips here and there. This guide is about short haul flights only (2-3 hours), so please bear that in mind.
Why is the planning so important?
When you travel with a baby, the packing suddenly becomes a little bit more complicated than when you traveled solo before you had your little one. Some people travel light with just a hand luggage; I was never one of them. I could never fit all my stuff in one small luggage.
Since my baby arrived, packing became even more challenging. But you adjust like with everything else when you have a baby. After few flights with my baby, I learned a thing or two about organising the baby essentials, so that everything important is handy when you need it.
Start organising your baby gear early
Are you used to packing for your travel at the last minute? Well, I strongly suggest you change your routine once you start traveling with your baby. There is just so much more to think about, so much more stuff to pack and you really don't want to forget anything important. The best thing you can do is to plan well ahead of your journey.
I start planning and organising things at least few days before the trip. Here's how I do it.
I make sure all my baby's clothes I want to take with us are washed and ironed early. So, on the last 3-4 days before the travel, she wears clothes I know I won't be taking with us. That way you can avoid doing some last minute laundry and focus on other things.
Once all baby clothes are ready, I pack them in one of those vacuum storage bags. I started using them for flights when my baby arrived. They are great when space is limited. Most of the time I travel with Ryanair where you can buy either 15 or 20 kg of baggage allowance. While pre-baby I could manage with 15 kg just fine, now I definitely need that extra 5 kg to pack everything for myself and my baby. This is another solo trip without my partner, so if he was coming with us, I would probably get two 15 kg bags with us. Keep two baby outfits on the side, for the journey.
Next, I make a list (on my phone) of other things, that I'll need to pack. That includes stuff for feeding, medication, bathing, entertainment, and documents.
I like to dedicate a small space (any table or dresser will do) where I start to gather things which are not used regularly, such as baby medication and documents. And then I slowly add to this as the trip approaches. At the same time, I delete things off my list and see what else need packing. I don't actually pack anything into the suitcase until the night before our travel, as I would still be checking everything few times. I can see all things clearly while they are on a table.
What to pack for the flight?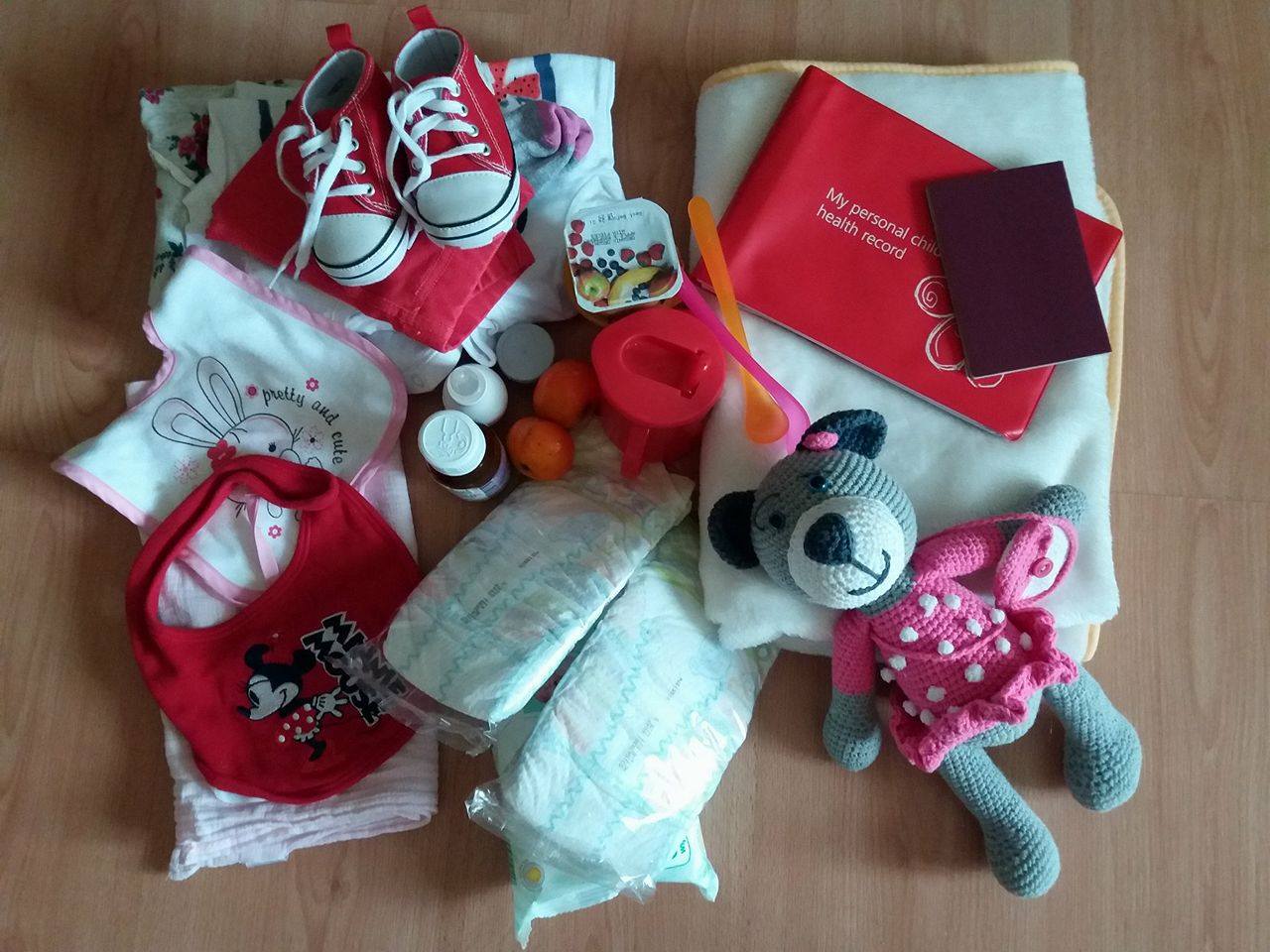 The good thing about traveling with a baby is that you can bring extra luggage with you onboard. So that's a hand luggage and a changing bag. You need to make the most of it because, as we already know, space is limited when you travel with a baby.
What exactly will you need in your hand luggage for the journey?
Spare clothes – for baby and yourself, in the case of ehm any accidents. I take one extra outfit for my baby and some top and leggings for myself. That's enough for short haul flights. Nothing too heavy or taking up too much space.
Milk/baby food – depending on your baby's feeding stage. If you are breastfeeding, great, usually no hassle. Unless your baby refuses to breastfeed in noisy surroundings like mine. I don't breastfeed anymore, but I used to feed her right before we boarded the plane and then straight after she's woken up and was still a bit sleepy. So, tips like 'feed during taking off and landing to ease the pain from the air pressure' didn't work for us. If your baby is on solid foods, pack the usual amount of food and snacks she would normally have plus a couple more.
Nappies, nappy cream and nappy bags- take some extra nappies. You shouldn't compromise with this essential. How many times have you changed your baby's nappy only to have to do it all over again five minutes later? Oh, the joys of motherhood.
Baby wipes – one pack will do.
Hand sanitiser – no need for explanation.
Small changing pad – you usually get one of those with your changing bag.
Blankets – I take two, but you could probably manage with just one. When babies are under two years old, they just stay on your lap during the flight. I keep one blanket underneath my baby when she sleeps as a cushion and something to lay on and the other one to cover her. I also keep them in my pushchair, so they don't take up space in my hand luggage. I just carry them to the aircraft once the pushchair goes to the luggage compartment.
Snacks for mama/parents – oh yes, don't forget about yourself. I usually manage without having to eat a lot during the flight, but it's good to have something should you get a bit peckish. Now, that my baby eats solids, I may pack some bananas and few other snacks, which we can share together.
Muslin cloth, bibs – one or two of each will be okay for a short haul flight to keep yourself and baby clean.
Baby medication, and Red book – I carry my baby's Red book (medical history book) everywhere with me. Medication, such as infant Paracetamol may be a good idea to take. If you baby is teething, don't forget her teething gel.
Plastic bag – for those dirty clothes, should you need to change baby's clothing.
Entertainment – you don't need a lot. Few of the favourite or some new toys will do. You can entertain your baby with literally anything you get your hands on at the airport. They will love the novelty of different things. Another option may be a tablet with a favourite program. We are flying late evening this time, so I'm hoping that my baby will sleep throughout (fingers crossed).
Dummies – if your baby uses them. I take two for the flight. My 10-month-old loves to throw them around, so it's a good idea to have a dummy clip too. Although she can now manage to untie it, that's why you need a spare dummy.
Documents – such as passports, boarding passes, baby's birth certificate (if traveling without your baby's father and your child doesn't share the same surname as you). I also took a consent letter when I traveled last time, as I didn't have the original birth certificate then, only a copy.
Travel system – think how you will transport your baby in your destination. For my first trip, I traveled only with car seat part of my travel system, as my sister, who was pregnant at the time, lent me her pram while in Slovakia. Since then, I travel with a pushchair, and I got a car seat from a friend back home. A sling or a baby carrier would probably work well at the airport, but my baby doesn't like them too much.
Avoid taking stuff in your hold luggage you don't really need
This is something that I still struggle with. Taking too many clothes and toys really isn't that necessary when visiting my family. I keep forgetting that my mum has a washing machine at home. How many of those little outfits I pack are unnecessary when I find out that my little one hasn't worn them once. I'm not going to list all items here; you pack accordingly to the season and weather in your destination.
The same goes for toys. I usually take more than I really need. When I'm at home with my family, there is always someone more than happy to play with my baby, as they don't see her often. This time I'll take few musical toys, which she loves. Only the ones that are lightweight, flat and not too big.
Few more tips
Organise your stuff, so you know where is what. After my previous experience of flying with a baby, I like to keep the most important items in my hand luggage. It's bigger than the changing bag so I can pack more in it. It's also better if it's a soft material luggage rather than hard case because I like to keep it under the seat in front of me. Things like some baby food, baby wipes, few nappies, muslin cloth, baby's clothing all go in there. Anything that I may need during the flight, so I don't have to struggle to get things from the overhead lockers. The rest (documents, Red book, my spare clothes) can go in my changing bag, that goes in the overhead lockers.
Get a travel insurance, if you don't have one. Before I had my baby, I always traveled without one. What can possibly happen, right? I wouldn't take this gamble with the baby. You just never know. Apart from the lost luggage issue, your baby could become ill, or you face some other emergency medical costs. Make sure you understand what is covered by your travel insurance and what isn't. You can quickly compare prices on one of the price comparison sites.
That's about it
This checklist is only a guide. You may need additional items, or you may find you don't need everything that's listed here. Every baby has its unique requirements, but I hope I provided some useful tips for packing that baby gear.
Anything I missed? What else do you pack for your baby? Do you have some helpful hints yourself? Let's hear it.
Zuzana