What a great afternoon we had at Heath Manor Park and Jungle Experience. We visited for the first time last week, and we loved it. Especially the little one. It's a great size park located in Halifax (West Yorkshire) with a fantastic playground, a small tropical world, water play area, coffee shop with outdoor seating and beautiful walled gardens.
We parked on the street not far from the entrance; it was free as it was Sunday. Otherwise, there is a two-hour restriction. Not ideal, if you plan to stay longer, but with a toddler, it may just be enough. I think we stayed there for two and a half to three hours.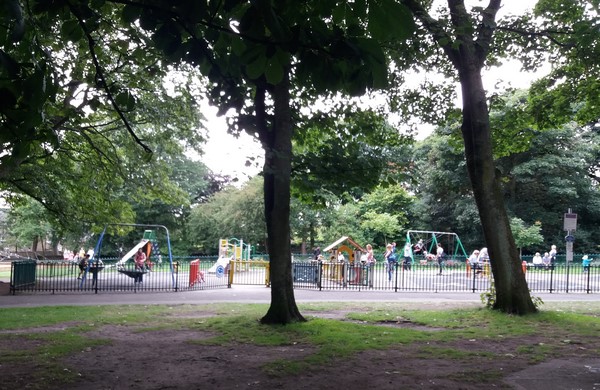 Our first stop was the playground area. An obvious choice with a toddler. I've visited many different playgrounds in my area, but this one must be one of the best so far. It's a lot bigger than any of your average playgrounds, with fantastic play opportunities even for a fifteen-month-old. That's not always the case with some other playgrounds in our area.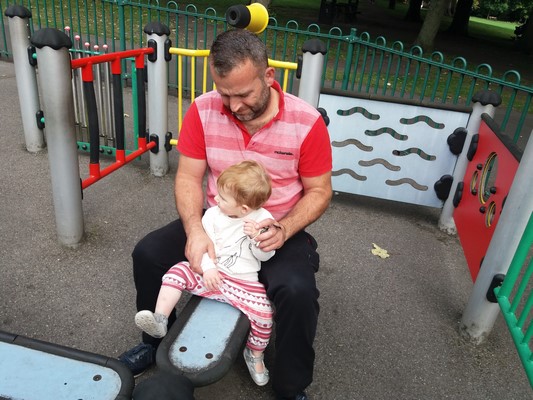 The little one spent over half an hour in the play area, and we could easily spend even more time in there, but we wanted to see the Jungle Experience before she gets too tired. So we headed there.
With £1 entry fee, I think that's pretty reasonable. The place is quite small, and you can make it from start to finish in about 15-20 minutes, even with the pictures being taken. Bare in mind that it's quite warm and humid inside, to replicate the environment the plants and animals naturally live in. No problem for me and it looked like the little one wasn't too bothered by it either, but my other half couldn't stand the heat for very long and was eager to get out fast.
So, what will you see inside? All is built inside big glasshouses. There are lots of different plants, some looked pretty exotic, little ponds, even a small waterfall. From animals, we saw butterflies, lots of fish but the highlight of the visit were without a doubt terrapins. You could watch them making their slow moves on top of a bridge we were passing.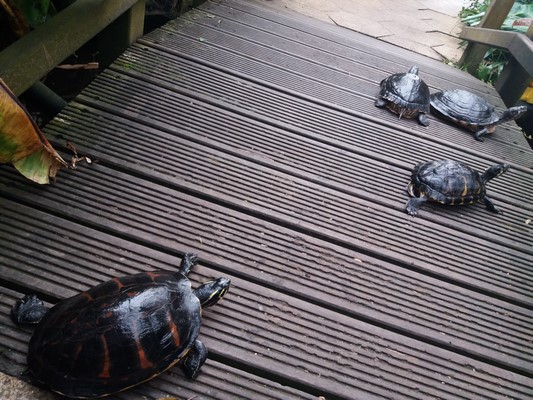 The little one enjoyed it inside, but I'm not sure whether older kids would find it as entertaining as smaller kids do due to its size and somewhat limited variety of animals to see.
We left our buggy outside, next to the entrance, but the place is accessible to wheelchairs and pushchairs. I can imagine it will be a bit tight with a buggy though. So if your little one is walking, I would leave the buggy out to avoid maybe some complicated manoeuvres amongst other visitors.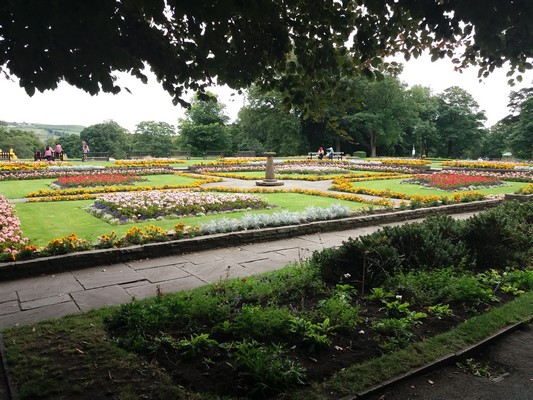 Once we were out, we decided to walk around the gardens for a bit. Although beautiful, it was not very impressive to a one-year-old. So, after only a short walk, we headed over to a water play area. To say that she enjoyed it is an understatement. I was a bit disappointed that it wasn't fully filled with water but it turned out not to be such a bad thing in the end.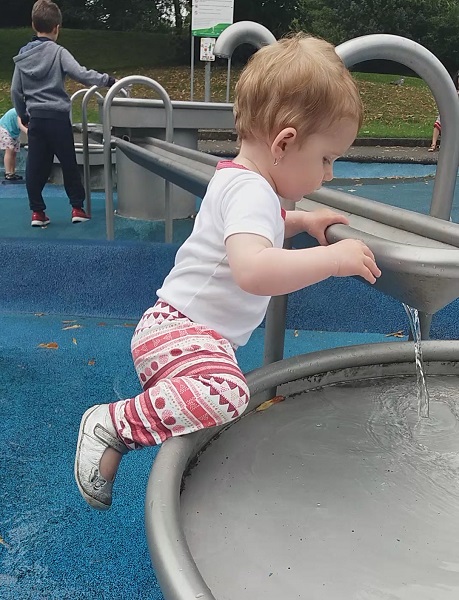 There were some taps so kids could let the water run in, and that made it sufficient for the little one to get completely soaked. She enjoyed the splashing, and I was glad I packed some extra clothing. I do occasionally forget about that bit. It wasn't the warmest day, so after about 15 minutes of her having a blast like in a proper water park, I decided it's time to get changed. Oh, she wasn't happy when I spoiled the fun.
We then walked around the park for a bit before we left. There was a small fun fair at the bottom of the park, but it looked like the rides were suitable for older children rather than our one-year-old, so we didn't even bother to go in.
We didn't visit the cafe this time, so I can't comment on that. I saw there were baby changing facilities next to cafe but again, didn't need to use them.
We will be back to this park, and I would certainly recommend it to families with small children. Excellent facilities, cheap day out and ideal for a picnic when the weather is nice.
Hope you enjoyed this review. Have you been to Manor Heath Park? If not, I hope you found some inspiration to give it a go.
Zuzana