What are the ideal Christmas gifts for 18 month old toddlers? I've been thinking really hard about what to get our daughter for her second Christmas. There are some traditions that we want to follow every year with her but apart from that it I had no clue. It's not like you can just ask them for their wishlist. And they seem to be interested in anything else rather than the pile of toys that's sat in the corner of the room.
I'm pretty sure your toddler already has a whole load of toys which she/he doesn't even play with. The house is getting more and more cramped with all the plastic stuff that hardly ever gets used. So, even though I know my little one will be getting a couple of new age-appropriate toys anyway, I want to get her some practical, more useful things as well.
After a little bit of research, I've come up with the perfect wishlist of toy and non-toy items for these little explorers.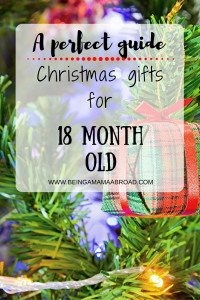 Memberships
Memberships are a fantastic gift choice for kids of any age. But they are particularly suitable for toddlers. They are at that stage when all they want to do is go out and explore the world around them. Experiences rather than material gifts are a much better way of creating memories. Why not check the attractions in your area, for example, farms, museums, zoo and buy an annual pass?
We've already got few of these here in Yorkshire. One for the Deep in Hull, the other one for Eureka! The National Children's Museum in Halifax. So, if you've not bought any memberships for your toddler yet, Christmas may be an ideal time.
Subscription boxes
I've never thought about getting one of these subscription boxes until now as I was doing some research for these Christmas presents. And what a genius idea. I have to say, I struggled a bit to find subscription boxes for 18 month olds here in the UK. Most that are aimed at kids are suitable for three years and up. But after some digging, I found a couple of them:
Bookabees Box – As the name suggests, this is a book subscription box, for ages 0-11. You get first-month subscription half price. Apart from your handpicked books, your little one also gets some unique activities in a box. You can keep the books for up to two months. After that, you have the option of returning them for free or purchasing them at a 50% discount.
SassyBloom – This is another great subscription box. The age limit here? Pregnancy – three-year-old kids. There are few different plans available and depending on your plan, you will get 4-7 items each month, personalised to your child's stage of development and gender. The items can vary from toys, books, practical stuff, even safety items. It's like opening Christmas presents every month all year round. Surely a hit for your toddler.
Clothes
Clothes are always useful. Ok, your toddler probably has a bigger wardrobe than you and your spouse together, but there is still room for some little extras. How about getting some cosy slippers to keep their little feet warm indoor? Or a nice set of matching hat and gloves? Wellies will come handy during winter in the UK, or some proper winter boots. Christmas outfits are super cute too.
Books
Kids love books. Installing a love for books at an early age is never a bad idea. You can even create a family tradition and get a personalised Christmas storybook for your child every year. I found this beautiful and entirely unique personalised kid's Christmas story book. A great, totally unique Christmas gift for children. A book that is made specifically for your child. No two books are the same, as the illustrations and rhyming stories are created based on the letters of your child's name. How cool is that? It's one of those special keepsake gifts that can be treasured for many years to come. 
Money box toy
Money boxes are a great way to start introducing your toddler to money concept. This beautiful toadstool shaped 'Fairy house' kids money box will gradually encourage your little one to start thinking and understanding the concept of saving their pocket money. You can start off by using play money instead of real. You know, toddlers at this young age still like to explore everything with their mouths. Otherwise, make sure they are closely supervised.  

Another idea is to get this piggy bank toy first before you decide on a real money box. This toy includes Smart Stage technology, which basically means that you can select between two levels of play; 6M+ or 12M+, according to your child's development. Great choice for introducing counting, colours, even French words in a fun way, along with 40+ songs, tunes and phrases.
Arts and crafts supplies
Turn your little one into an artist with this toddler's first art kit and start creating an art gallery with her. An excellent gift to spark their imagination and creativity and encourage an early love of arts and crafts. I recently bought a different set of art supplies for my daughter and she was instantly intrigued by all the different items, like stickers, colour paper, crayons, pom poms and all the textures and colour. A total hit.

Musical instruments
If your little one loves making sounds, which let's face it, most toddlers do, then this musical set might be the perfect gift for her. The set includes a tambourine, cymbals, maracas, clacker, tone blocks and a triangle. Get this banging and shaking instruments and let your toddler make some music and even more noise.
Personalised puzzle hands
This is another great gift from My 1st Years. A brilliant item to teach your toddler numbers, shapes and colours. Each hand can be personalised to add a special touch. And it's also perfect for travelling, super light and flat. An extra bonus.
Toddler chair
Now that your little one is no longer a baby, it's time to get her a very own place to sit and enjoy some independence. This chair from Fisher Price is just adorable. Again, it comes with Smart Stages technology. You can choose from three levels play and change them as your toddler grows.

Maybe you want something a little bit more grown up. This multifunctional chair and table set turned armchair is brilliant. It comes in three different colours, so it's suitable for both boys and girls. Your toddler will surely have lots of fun with his very first smiley piece of furniture when she transforms it from chair and table set to an armchair and vice versa.

Toddler backpack
I just love the designs of these backpacks. There are several design options to choose from, Whether your little to use it when she/he goes to nursery or just for days out and family trips, your little one will love the cute design. There are several designs to choose from, such as giraffe, monkey, owl or tiger. I'm sure you will find one that's right for your toddler.

What gifts do you plan to get your toddler? Do you prefer a toy or non-toy items? I hope you found this guide helpful. Let me know how you're getting on with your Christmas shopping.
Zuzana