So, the first year of our baby's life is well and truly over. Mixed feelings of sadness, happiness, accomplishment and nostalgia flow through my head. It's a bittersweet moment of realisation that the precious, yet hard and exhausting newborn stage is gone forever.
Deciding what to buy for your one-year-old to mark her first ever birthday can be tricky. Yes, choosing gifts for baby's 1st birthday is tough. I've been thinking about the gift ideas for quite some time. Do you let yourself run wild and get every toy under the sun that's right for her age? You can see the reasoning here; it's her first birthday, you are allowed to spoil her a bit, right?
Or, do you select few special items to mark this occasion?
After much consideration, I've come to a conclusion that there is some truth to the good old saying 'less is more'.
Toys that will be more appreciated
It seems that nowadays parents put too much emphasis on buying the latest toys to make sure their kids are not missing out. And anything that's baby related is just ridiculously expensive, including toys. The selection of toys on offer? Even more ridiculous. I mean, how do you even begin to choose few items among all the multicolored shelves of plastic, plush and other flashy toys and games?
The other point to make is, my baby is really not that interested in playing with toys. Especially since she became mobile. Her favourite 'toys' at the moment are a TV stand and a big potted plant we have in a living room. I wish she were so keen on eating her veggies as she is in eating potting soil. Any containers, bottles, tubs she can open with her teeth again and again and again, the most awkward and dangerous corners in our apartment or taking clothes out from drawers, are some of her favourite 'toys' and activities at the moment.
Toys? Yes, she can accidentally stumble upon some throughout the day, but they don't hold her interest for very long. So, I really didn't want to spend an enormous amount of money on toys for her first birthday.
With that being said, what are the ideal presents for her first birthday?
I knew I would get one or two toys anyway, but I didn't just want to create more clutter at home, so getting something that can actually be used was important. I was also thinking of different and more unique gift ideas. Here's a list of things we got for our baby. Hopefully, you can find some inspiration.
Something for outdoors
We try to spend our days outdoors as often as the weather in Britain allows us. The parks nearby are perfect for keeping our little one busy for hours. She can get bored quite quickly while indoor, so I decided to get her something she can use outside. We saw this baby trike one day in the park, and my partner suggested to get one of those. Why not, I thought.
Off we went to our local Mothercare and bought one, as it was on offer. It was an instant hit with our little one. Being strapped in a pushchair all the time is no fun, and she can get quite frustrated sometimes, but in the trike, she looks very comfortable and happy.
It's not the cheapest gift (price for them range anywhere between £50-£120), but I think it's money well spent. It's suitable from ten months up until three years of age, so it's got a good life span. Hopefully, our baby will enjoy it further down the line as much as she likes it now.
Something personalised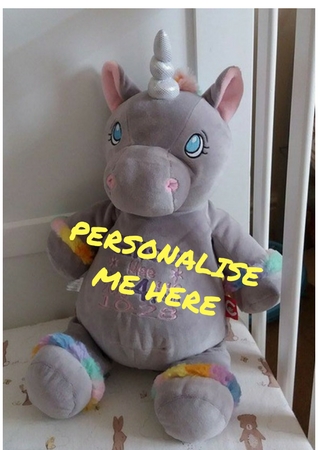 I love personalised gifts, and I always get some for my family for birthdays or Christmas. There are some great sites with personalised items here in the UK. One of them is gettingpersonal.co.uk. I used this site on more than one occasion, and I'm pleased with the products and service I received each time.
I was browsing their 1st birthday gifts section when this unicorn soft toy caught my eye. That's another toy, but because my baby doesn't have that many soft toys, I decided to buy it. It just looks so adorable, and you can personalise it with your child's name, date of birth, weight and time of birth. Some items you can only personalise with a name, so these added birth details make this an extra special gift. It's a great size and high-quality product, and I'm delighted with this present. Plus, the little one seems to like her new cuddly friend too.
This soft toy costs £30, a lot more than your average soft toys of this size but the personalised embroidery gives it a special and unique touch.
Something memorable
Another present I got from gettingpersonal.co.uk is the Birthday Yearbook. This is a perfect keepsake gift, that's personal and can be enjoyed for many years to come. You can add photos, comments and any records of the special day each year until your kid is 18 years old. Ideal for creating lasting memories for your little one.
Again, good quality, plenty of space for each Birthday, very well thought out gift that comes in a sturdy plastic folder to keep it safe for the future.
At £20, I think if offers a great value for keeping those special memories recorded.
We also went to Yorkshire Wildlife Park, as a special birthday treat. Days out and experiences are also great presents for kids of any age. They create memories, and I think that's way better than any toy. I know, my baby won't remember her special birthday treat at this age but I like to instill the love for outdoors early on in her life anyway.
So, there you have it, our special gifts for baby's 1st birthday. I'm happy with our choices and hopefully, I've given you some inspiration for your coming birthdays.
What would you pick for your little one? I would love to know what you got for your baby's first birthday.
Zuzana